The Darebin Songwriters' Guild welcomes people with a song in their hearts or a tune in their heads. It's an opportunity for songwriters to get together to learn from and encourage each other, to listen and be listened to. It's nurturing but unprecious, great for inspiration and networking. Lyricists meet tunesmiths, singers meet writers, guitarists meet pianists… the possibilities are endless.
This is (very) slowly becoming the website of the Darebin Songwriters' Guild. You can also check out our Facebook page, email us at info@darebinsongwritersguild.org and/or join our mailing list:
Got a gig? Give us the details so we can promote it in our ebulletin
Upcoming events
August Session – an afternoon of original music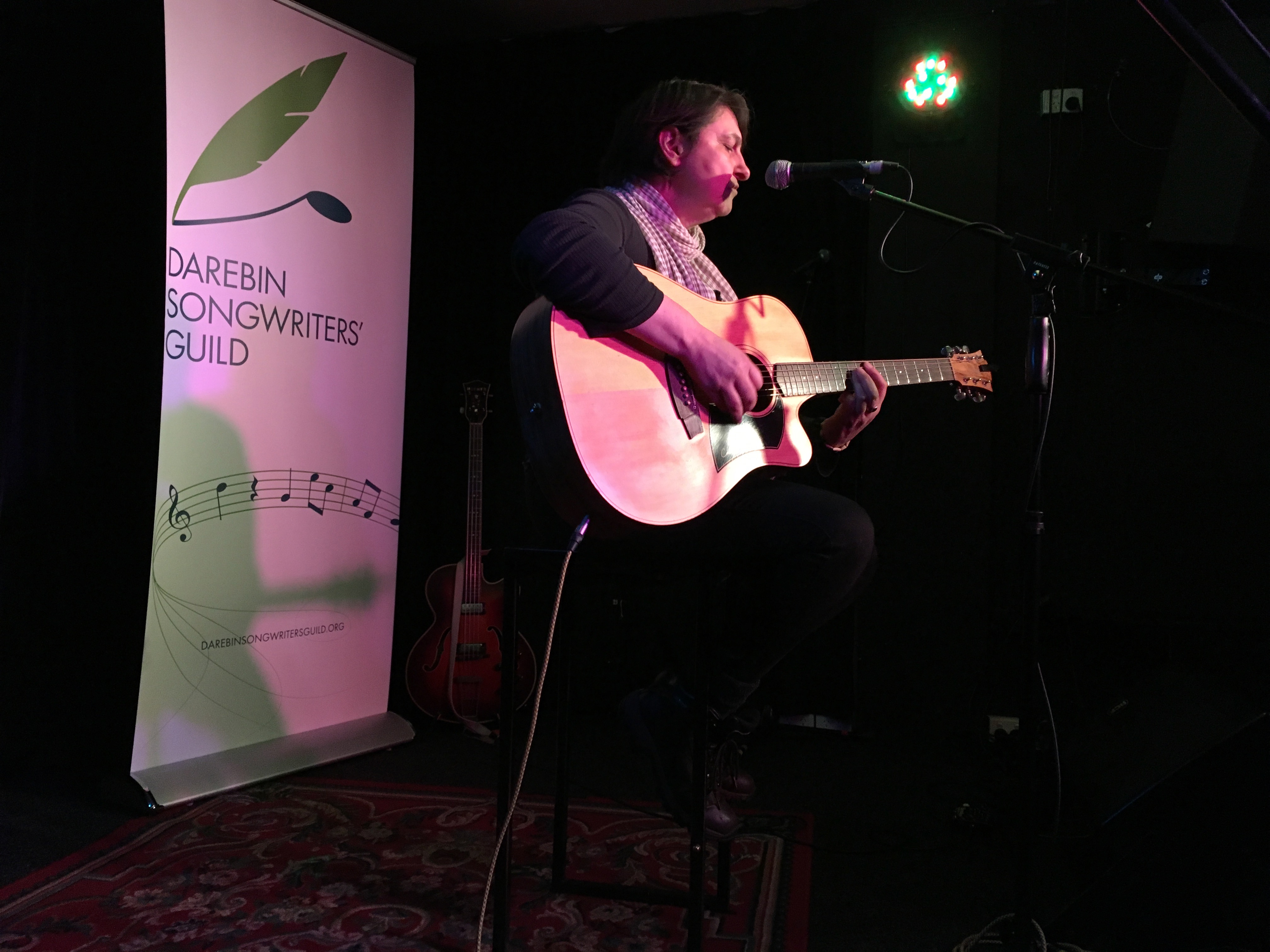 Sunday 1 April @ 3:30 pm
BAR 303
303 High Street Northcote
Entry by gold coin donation
In the deep dark depths of winter, a little beacon of hope shines bright: a humble pocket of light and warmth in the back room of Bar 303 where you can imbibe a delicious beverage or three while soaking yourself in an extravagance of great music from remarkable songwriters and performers who come from far and wide to sing awesome truths and tall stories and cutting social satire and that's just the beginning! Yes that's the hyperbolic blurb for the next Darebin Songwriters' Guild session.
This time, we'll be hearing from:
Kathryn Clements
Gill Sealby
Richard Graham
Ruth Parker
Suzette Herft
Mats Björklund
Sam Terranova
Dean Lombard
Fiona Claire and Michael Madermid
RSVP to the Facebook event and share it with your friends!
August Songwriting Workshop
Monday 13 August @ 7:30 pm
Rose Shamrock Hotel
709 Plenty Rd, Reservoir
Stuck on a song? Not sure if it's working? Crowdsource it! At our songwriting workshops, participants take turns playing a song to each other and get feedback, comments, suggestions, etc. It's great for improving your songs and learning to think about them in different ways.
If you want to come, please RSVP by Friday 8 June to: workshops@darebinsongwritersguild.org. (Numbers are limited: we only have time to work on eight or nine songs, so the ninth or subsequent RSVPer may miss out on sharing their own song.)
Regular events
Sessions
Members of the Guild take turns playing three-song sets of their original material. Sessions happen bimonthly on Sunday afternoons at Bar 303 (303 High St, Northcote), from 3:30 to 6:45 pm. Email sessions@darebinsongwritersguild.org to book a spot.
Remaining dates for 2018 (first Sunday of even-numbered months):
5 August
7 October
2 December
Workshops
Participants take turns playing a song to each other and get feedback, comments, suggestions, etc. great for when you're working on a new song and are a bit stuck with it or not sure about it. Workshops happen monthly on Monday evenings at the Rose Shamrock Hotel (709 Plenty Rd, Reservoir), from 7:30 to 9:30. Places limited. Email workshops@darebinsongwritersguild.org to register.
Remaining dates for 2018 continue on the second Monday of each month:
13 August
10 September
8 October
12 November
10 December
Got a gig? Give us the details so we can promote it in our ebulletin